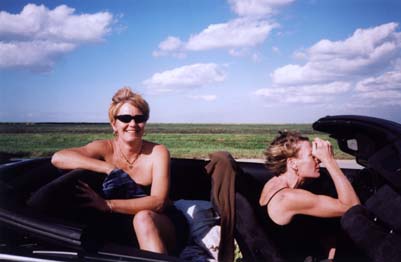 Each time Cynthia Packard, verteran painter, prepares for a show, she starts out trying to paint the subject matter and sizes that sold well in the past, but it never works that way. "All hell breaks loose," she says matter-of-factly, "and the paintings become what they are going to be."
Cynthia is a thin, lithe woman with short blonde-streaked hair and intense deep blue eyes. Her energy matches her physical form. We are sitting on her sister's patio in Sarasota, having driven down from Provincetown with four kids for the school vacation. Cynthia did most of the driving—16 out of 24 hours—and it was her idea to drive straight through.
Cynthia has just finished 35 paintings for her 16th show, so she can take a break. This show is her third at Bennet Street Gallery in Atlanta. The truck came two days ago and we are 1500 miles away from her studio, so she can no longer 'edit' any of them.
"I am able to stop, accept a painting for what it is, and move on. Every painter wants to paint a masterpiece, often working well past the point of no return; but good paintings just come, you cannot force them."
She recalls a day last fall when her sister, Leslie, hid some of her paintings so she would leave them alone. When Leslie left, Cynthia rooted them out and worked on them furtively. "It takes a supreme effort to say 'that's enough,'" she admits. "Doesn't that make you feel anxious?" "Yes, there is an anxious quality to it, a risk of seizing up." She offers a basketball analogy: "When you are on a great shooting streak, you have to honor the gift, but not hold on too tightly; you must be an observer, stepping back, watching yourself."
During the last two to three months before a show, she eats, breathes and lives with her paints. Her kids pop into the studio to ask how it is going, or what's for dinner, or when the show will be over so she can be more Mom than painter for a while. She shows up at the school in the afternoon to coach basketball, her other love, covered in paint from head to sneaker, looking like a plumber or a mechanic covered in grease. "I feel like a breathing paint rag!" she laughs.
One of my favorite stories of Cynthia--artist, mother of four, and basketball coach—multi-tasking, is the time she hosted her oldest son's birthday party at a laundrymat, next to a bowling alley. "My washing machine was broken, so I combined washing a dozen loads of clothes and bedding with the birthday party. The eight kids bowled next door while I started the laundry. Then during the drying cycle, we ate pizza perched on top of the washing machines!"
"When opening night finally comes, I have my hair and nails done, and buy a new dress. I get to be Cinderella for one night, then it's back in the trenches with basketball and pancakes and matching socks."
I ask her what she is trying to do in her painting. "Well, it changes all the time, you know. Right now the kind of painting I want to do is harsh and abstract, yet irresistible…like making raw meat taste good, taske like white chocolate! I want to strip down to that thrust, that punch of life, but I don't want my paintings to be just confrontational; I want them accessible, too."
Cynthia wants to grab her viewers and make them see the beauty and the terror of reality stripped to the bone; see it all, good and bad, and no longer be satisfied with the surface of things.
She likens her personal relationships to her painting philosopy: "I'm tough and I want to get down to the bone, but I'm loving and nurturing too."
She reminds me of a walk we took a few weeks back when I complained about the fetid smell of skunk. She surprised me by saying that she loved the smell. "It's part of life," she explained, "I embrace it all."

-- February 2002