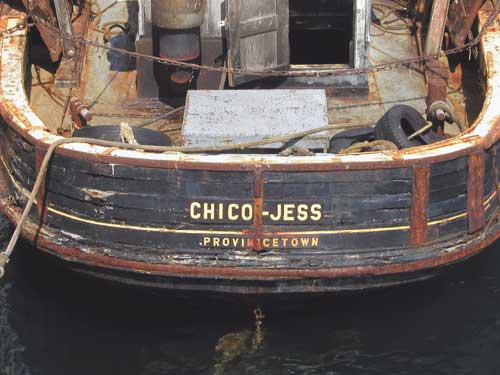 Provincetown Banner Daily Update Sat. Nov. 3, 2007
By Pru Sowers
Banner Staff
PROVINCETOWN – The town's oldest wooden commercial fishing boat, the Chico-Jess, sank at its mooring at MacMillan Pier late Wednesday night.
Capt. Francisco "Chico" Vincente said he did not know why the boat went down but acknowledged that it had been leaking for quite some time. The harbormaster's office had to pump out the boat three times since last winter, according to harbormaster Rex McKinsey, and Vincente had also been regularly pumping out the boat.
The 82-year-old wooden dragger was still at its moorings around 9:30 pm Wednesday night but when assistant harbormaster Duane Steele made his rounds at 11:30, the boat had sunk. The dragger had been confined to the pier early this year after the local Coast Guard boarded the 60-foot boat and found Vincente did not have the required cold weather safety gear.
Because Vincente had not been using the boat, it had only approximately 30-40 gallons of diesel fuel on board. The harbormaster's office put double containment booms and absorbent sponges around the boat to soak up the gas. McKinsey said the environmental impact of the leaking fuel should be minimal.
The Provincetown Public Pier Corp. had Vincente in at its Oct. 11 meeting to discuss the safety of the Chico-Jess and the fact he had not paid his mooring fees to the town for six years, resulting in approximately $6,000 in delinquent payments. The board discussed seizing the boat for non-payment of fees and either beaching it or tying it up at the so-called railroad trestle, a wooden mooring next to MacMillan Pier just off the beach. However, McKenzie said if the PPPC seized the boat, it was then legally responsible for it, including any damage that might occur.
At that meeting Vincente said the boat was not a hazard and he was attempting to sell it, along with his commercial fishing permits. After 43 years as a commercial fisherman, he said, he has been forced out of businesses by the growing number of government-imposed restrictions on the number of days he is allowed to fish, a common complaint among local fishermen.
Vincente will try to raise the Chico Jess on either Sunday or Monday but will be faced with the problem of what to do with the vessel if he is able to refloat it. McKinsey said the Pier Corp. directors are unwilling to let him tie back up to the pier.