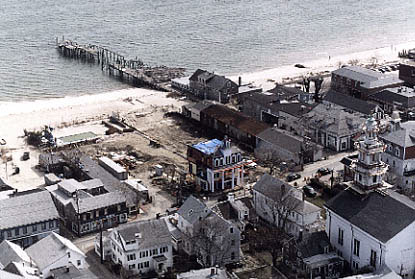 On the warm February 10th night , 1998, sirens erupted with terrifiying news: there is a fire! The Crown & Anchor and Whaler's Wharf buildings were burning. As most of the town stood and watched, 15 fire trucks and 7 ladder trucks from 9 Cape towns fought the inferno. The night was very windy, increasing the possibility of fire spreading to neighboring buildings.
This photograph was taken after the clean up in preparation for rebuilding both businesses. Today Whaler's Wharf is a beautiful building with a restaurant, galleries, artist studios and shops.
The Crown & Anchor is once more the home of cabaret entertainers from all over the country.
The aerial view is telling a story about a devastating fire, but also when you look closely, you'll see that Provincetown is built on a strip of sand and its fragility should be never forgotten.



Photograph by Joyce Johnson.