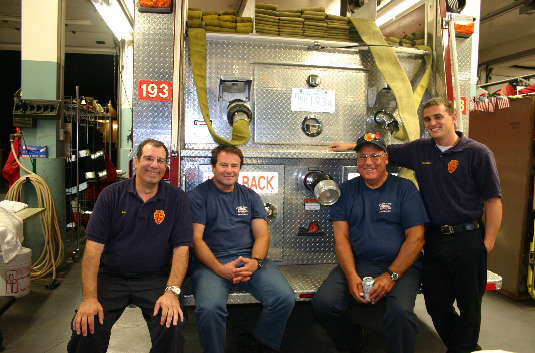 Sunday, August 17, 2008, 12:30am. PT1 Firehouse, from left to right: Ed Fallas, Dan Notaro, Mike Coelho and Justin White.
Fire Department History Timeline
The Provincetown Fire Department was established in 1836*. (*first town purchased fire engine. The fire department actually formally established May 19, 1859 with a chief and board of engineers). The Provincetown rescue squad was established in 1950s.
1775 - Ptown Population 205, about 20 homes
1800 - Ptown about 144 dwellings
1820 Mar 6 - voted to purchase 6 fire hooks
1820 - Ptown population 1252
1826 Mar 6 - voted to purchase 4 fire hooks
1826 Mar 6 - voted NOT to purchase a fire engine
1829 Mar 2 - Appointed 6 Fire Wards
1830 Apr 5 - Voted NOT to purchase fire engine
1831 May 11 - Voted NOT to purchase fire engine 'already in possession' of Jonathan Cook
1836 Mar 7 - Voted to buy Fire Engine 'Washington'
1836 Mar 7 - voted to purchase 30 2nd hand buckets and 100' hose
1837 - Fire House No.1 @ 351 Commercial Street (Center)
1839 - voted 10 additional buckets for engine company
1840 - PTown population 2122
1850 Feb 11 - Voted to buy fire engine 'Franklin'
1855 - PTown population 3096
1858 - Fire House No.2 @ 117 Commercial Street (West End)
1859 Feb 14 - Elected Fire Wardens - Did NOT approve 'formation' of a fire department
1859 May 19 - APPROVED formation of fire department
E.C. Loring first fire chief
1859 - Purchased Rescue Hook & Ladder No.1 built by B.A. Ellison, Wellfleet
1867 - voted NOT to purchase a steamer
1868 - Voted to purchase (2) used fire engines 'Mazeppa No.3' and 'Excelsior No.4'
1869 - voted to purchase fire engine 'Ulysses No.1' to replace Washington
1869 - Fire house 514 Commercial Street
1869 - Fire house 189 Commercial & Pearl
1870 - 370 firemen on roster, 4 engines with hose carts, 1 hook & ladder, 1 relief engine,
1 relief hose, 5 fire houses, 3650' hose, 26 reservoirs
1870 - Ptown about 794 dwellings
1871 - J.D.Hilliard fire chief
1873 - Organized Tiger No.5
1873 - Railroad came to Provincetown
1875 - Poulation 4357
1889 - Purchased Steam Engine J.D.Hilliard No.3
1889 - Purchased Chemical & hose Excelsior No.4
1890 - Population over 5,000
1902 - Firehouse moved from Commercial St to Johnson Street for No.3
1913 - Roster of 126 firemen, (1) Steamer, (1) hook & ladder, (2) hand engines,
(1) Chemical engine, (6) hose reels, (1) hose carriage.
1918 - voted purchase first motorized fire engine. Ford Model T Chemical No.4
1925 - voted purchase motorized engine - Ford Model T Chemical No.5
1925 - voted motorized ladder truck
1930 - voted purchase motorized engine - American LaFrance Eng No.1
1930 - voted purchase motorized engine - American LaFrance Eng No.2
1936 - voted purchase pumper - Engine 4
1940 - voted purchase pumper - Engine 3
1945 - voted to replace pumpers No. 1 & 5
1950 - Willys jeep and pump trailer as Engine 6
1962 - Pumper for Engine 2
1968 - Pumper for Engine 3
1972 - Ambulance Van style
1971 - Pumper for Engine 1 - arrived in 1973
1975 - Ambulance Modular style
1976 - Voted to replace Engine 4 & 5
1993 - Shank Painter Road fire house opened - replaced No.1 117 Commercial,
No.2 189 Commercial and moved Eng 3 from Johnson Street.
1993 - used engine for Engine 3
1996 - first aerial ladder in history
2001 - Fire House No. 5, 514 Commercial Street renovated
2001 - Baby is born in Rescue Squad ambulance on Route 6 near exit 8 at exactly 3pm; Ken Oxtoby, Joel Macara and Russell LaPorte delivered little Colby Richard. The ambulance picked up the expecting mother vacationing at the Dunes Edge Campground after her water broke and she began experiencing contractions just two minutes apart. After just about 35 minutes of labor in the ambulance, the crew was forced to pull over to the side of the road and welcome the four-pound, seven-ounce baby boy into the world in the midst of the summer traffic.
2008 - March 4: Arthur Cohen's studio destroyed by fire. Cohen is well-known painter, exhibiting at Berta Walker Gallery.
2008 - March 17: An arson task force has been assigned in an attempt to catch the person or persons responsible for setting 17 fires since October 2007.
2008 - Provincetown Public Library, Heritage Day: Provincetown Fire Department
For more information about Provincetown and Cape Cod Fire Departments visit http://capecodfd.com/pages%20depts/21%20fd%20%20provincetown.htm