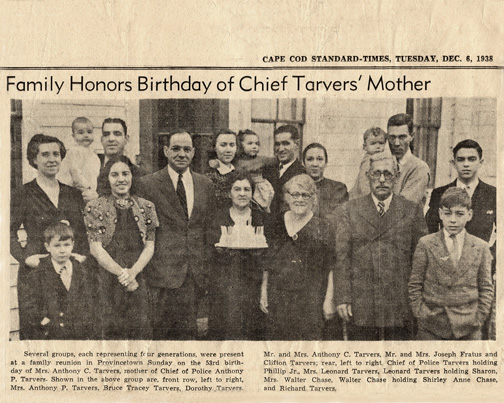 I was born in Provincetown in April, 1939.
My parents were Anthony P. Tarvers and Mary Elizabeth Silva (a/k/a Molly) Tarvers. When I was born my father was the Chief of Police in Provincetown. I was the third of four children. Only my brother Phil Tarvers and I remain. Phil lives in North Truro. I was born in an infirmary at 6 Dyer Street. My family lived in a house on Washington Avenue until I was five years old and then we moved to 178 Bradford Street, which is now known as "Snug Cottage." When our family lived in the house it was called Twin Gates. Our friends always congregated there. In the summertime, my mother ran our home as a guest house, as many others in Provincetown do today.
After the closing of the Governor Bradford School, my mother and some other towns people were responsible for turning the school into a Community Center, where the local kids could go for recreation and basketball, and where adults could meet for various purposes, such as adult education classes.
My uncle, George Adams (was married for 52 years to my mother's sister, Victoria), who was Captain of the Captain Bill at one time, brought up the huge anchor that has rested for many years at the head of Provincetown's main wharf. It was my mother who proposed to the town that the anchor should rest on that spot. Uncle George is now 87 years old and lives in Boca Raton, FL.
While fishing was the main industry in Provincetown when I was growing up, my grandparents and parents were not involved in the industry. My grandfather Tarvers owned a liquor store at 364 Commercial Street. My maternal grandfather was in the Coast Guard and was a cook at the Coast Guard Station at Race Point. Both my grandmothers were homemakers. My paternal grandfather and my maternal grandmother migrated from the Azores.
When I graduated from high school in 1957, I went to work at the Pentagon in Washington, DC, for the Department of the Navy. I married at 19, divorced at 39 (happily) and I have two sons ages 49 and 45.
My most cherished friends today are the people I began going to Miss Freedlander's kindergarten with when I was five years old. The Provincetown of those days built strong relationships that still exist today.
Provincetown was a wonderful town to grow up in. I have always been very proud to be Portuguese and to be from Provincetown. Our family members lived in close proximity to one another. Holidays were spent around my parents' huge dining room table at Twin Gates. Provincetown was a safe haven for teenagers. We could walk anywhere we needed to go and spring days could be spent in the woods near "Helmer's Pond" on the road to Race Point from Bradford Street. I lived the life of an Air Force wife for sixteen years and I've lived in many places, but my heart will always be in Provincetown. And I think if you talked to other people of my generation who grew up in Provincetown, you would hear them say, no matter how far and wide they have traveled, Provincetown is always going to be called home.
--Sylvia Tarvers Weston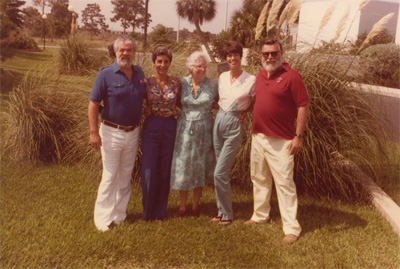 Molly Tarvers and her adult kids: Philip (on the left), Sylvia, Molly, Cynthia and Bruce (1981)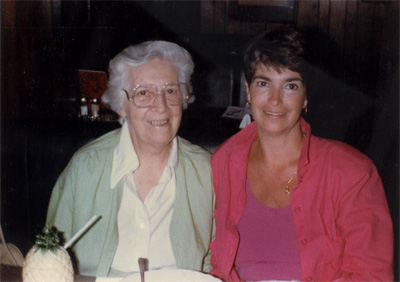 Molly Tarvers with daughter Cynthia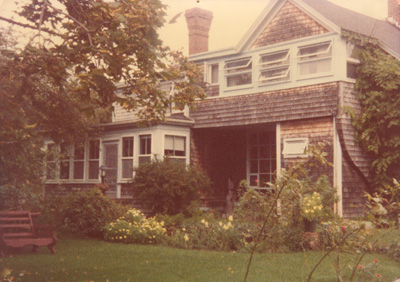 Family home 178 Bradford Street, Provincetown, originally called "Twin Gates" (1943-1963)