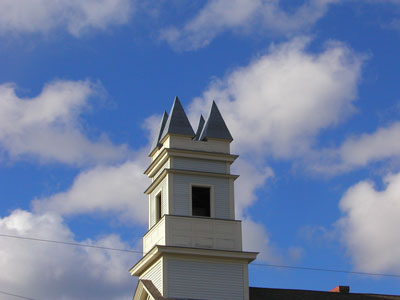 The former schoolhouse at 494 Commercial Street was one of three built in 1844. It was known as the Eastern School and until the early 1900s contained the first three elementary grades. During the depression it served a community center; later a summer art school was located on the second floor (with artist Peter Manso as a teacher). The same space was once exhibition hall for famous Long Point Gallery (Tony Vevers, Robert Matherwell, Paul Bowen, Paul Resika, Carmen Cicero among represented artists). The first floor used to be the headquarters of the American Legion Morris Light Post Number 71, and in 1990s, Rising Tide Gallery on the back of the building.
In 1997 David Davis was the new owner, and he renovated old building, with much care and focus on details. The building was name the Schoolhouse Center and one of the galleries, Kevin Driskel Gallery, was named in memory of David's beloved friend Kevin Driskel, who died of complications from AIDS on April 4, 1997 at his home on Franklin Street in Provincetown.
Since 2004 the building is owned by Provincetown non-for-profit radio station WOMR 92.1 fm with performing space and recording studio on the second floor and the art galleries still on the first floor.