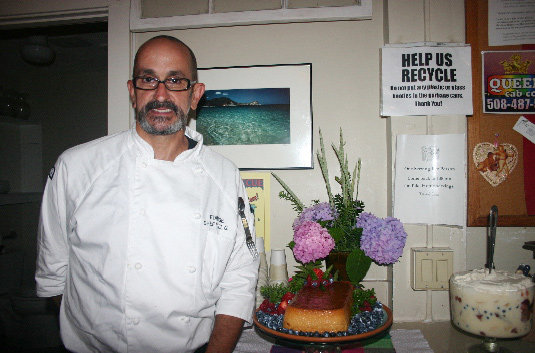 Cafe Edwige breakfast chef Raul Garcia, after cooking the community dinner, Local Flavor, in the Great Room of the AIDS Support Group of Cape Cod, located at 96 Bradford Street. July 2008 marks 25 anniversary of their care for HIV+ community.
Cafe Edwige is one of the most enduring and best loved restaurants in Provincetown. It is located upstairs at 333 Commercial Street at the foot of Freeman Street.
The intimate setting dates back to a quieter and gentler time when good food fed the conversation in low, animated tones. The breafast crew with Raul and NancyAnn at the helm will do everything to feed you heartily for your day of shopping, sailing, whale watching, art buying... and the Night at the Edwige can be the perfect segue into a romantic evening of watching stars at the MacMillan Pier... going to the Provincetown Theater, or just walking the beach.
Cafe Edwige, 333 Commercial Street | Reservation recommended 508-487-2008
AIDS Support Group of Cape Cod, 96 Bradford Street, 508-487-9445