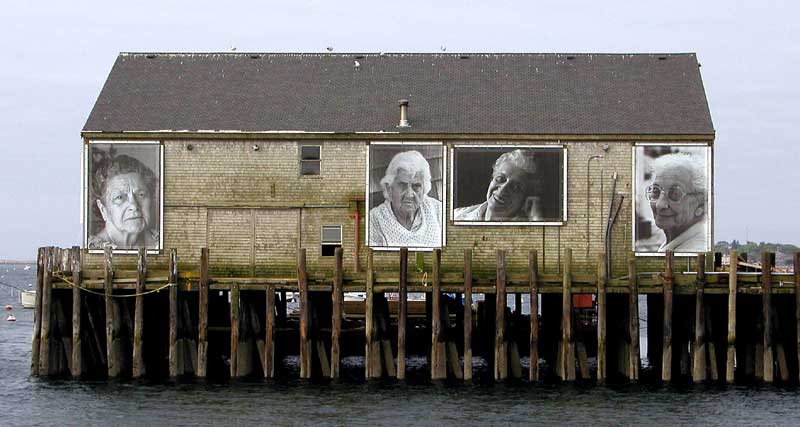 Left to right: Eva Silva, Mary Jason, Bea Cabral and Frances Raymond, Fisherman's Wharf, Provincetown


Almeda Segura - I am sorry to say but this photograph is no longer
on the building... it was destroyed by weather.


"They Also Faced The Sea" installation was designed to keep the spirit and the presence of Portuguese culture alive by Ewa Nogiec, artist, publisher of iamprovincetown.com and owner of Gallery Ehva, and Norma Holt, photographer.
The installation of five larger-than-life black and white photographs of Provincetown women of Portuguese descent, mounted on a building at the end of Fisherman's Wharf in Provincetown Harbor, is conceived as a tribute to the Portuguese community and its fishing heritage.
Norma Holt's photographs from Pilgrim Monument and Provincetown Museum collection of Almeda Segura, Eva Silva, Mary Jason, Bea Cabral and Frances Raymond, are meant to represent all of the women of Provincetown who over the years have been the backbone of this vital fishing village. They came from a long line of hard-working people, immigrating mostly from the Azores and mainland Portugal. Their families fished the waters off Cape Cod for over 200 years, built a major fish packing and distribution industry and made an important contribution to the history and culture of Provincetown.
Portuguese women faced the sea in many ways: as mothers, wives, sisters, friends and family of fishermen, as cooks, laundresses, nurses, teachers and telephone operators. They kept the culture alive, sang the songs, danced the dances, buried the dead, gave birth, cooked and kept the church at the center of their lives. Above all, they were resilient through good times and bad, their strength and courage easily matching and supporting that of their male seafaring counterparts.
Norma Holt, July 2012
.....................
Jan. 18, 2006 - Today I tried to read the plaque on MacMillan Wharf about the faces on the building there. It was raining too hard etc. How can I learn about this. I came for the day from western MA. I do this frequently with my camera as company. I enjoy the solitude and natural beauty of this wonderful escape-Cape Cod- from the "harsh" world that I so briefly escape from. The early history of Ptown must be interesting. When I mentally erase the present day businesses etc. I can see a quint seafaring town with its narrow meandering streets. So many early fisherman and others walked the streets and tied up their boats, spending their lives there and are now long gone. History is more than documentation. It is lives of actual people lived before us walking on the very places that our feet now touch etc. The faces on the building is very meaningful. The person who created it perhaps is intrigued and respectful for all that came before us. In the museum in Plymouth there is a cradle of a baby boy that survived his parents on the Mayflower. His survival is directly responsible for my existence. Ancestors traveled across Ma. to western Ma. over centuries until his present day ancestors traveled to Plymouth to look through the glass case in a museum at his cradle ... his beginning was my beginning hundreds of years later. --Joan
.................................................................
Beatrice V. "Bea" Cabral, 90, of Provincetown died Monday, October 6, 2003, at the Cape End Manor after an illness. She was the wife to the late Manuel Cabral. Mrs. Cabral was born and educated in Provincetown, the daughter of the late Manuel and Mary (Ramos) Souza Palheiro. She worked as a chambermaid at various motels in Provincetown for many years, including the Provincetown Inn and the Blue Sea Motel. She also worked for Prvincetown for 13 years as one of the matrons at Town Hall.

Mrs. Cabral enjoyed crocheting and loved cats. She if fondly remembered by her many friends for her familiar greeting, "Hello, darling." Surviving are her son Ronald K. Cabral of North Truro; daughter Shriley Mager of Levittown, PA; six grandchildren and several great-grandchildren. Memorial donations may be sent to the Cape End Manor Residents' Fund, 100 Alden Street, Provincetown, MA 02657.
[Provincetown Banner, 10/9/2003]

Shirley Cabral, daughter of Eva Silva, lives and works in Provincetown. She has three daughters.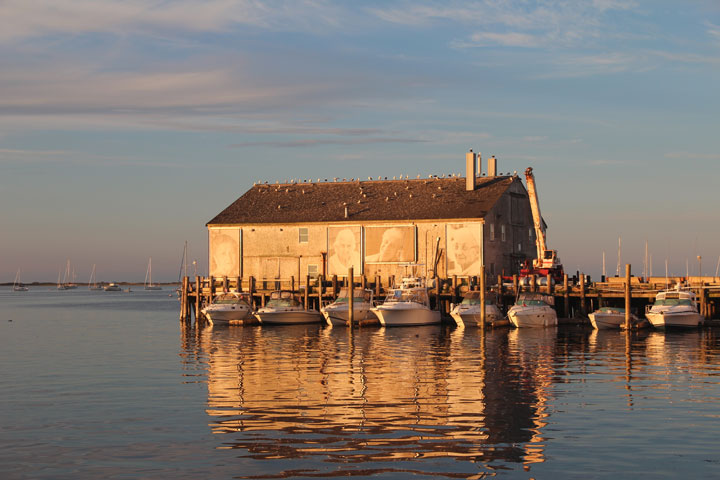 Sunrise light, Fisherman's Wharf with "They Also Faced the Sea" installation... 8/25/2012