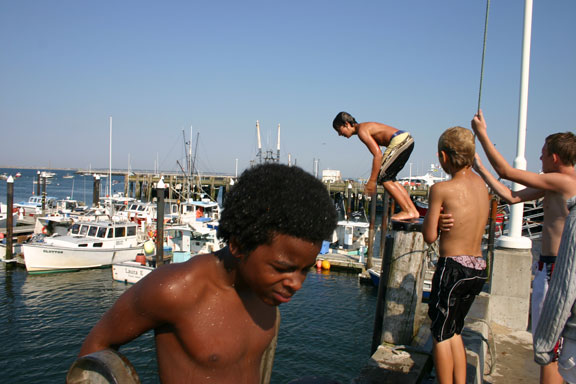 Local Provncetown kids dive for pocket change from the east side of MacMillan Pier – a childhood ritual that goes back generations. Like many other summer resorts, local or year-round youngsters make life-long friends with summer kids whose families own summer homes. To see more Provincetown Harbor Kids photographs, click here...
Local life in Provncetown extends, of course, to all seasons. Watching the blazing November sunset at Herring Cove, ice skating on frozen kettle ponds in the Beech Forest, attending Provincetown High School plays, celebrating the Junior Prom in Town Hall, participating in the Town Meetings and lighting the Monument –– we are a small town; small things make us appreciative of the everyday beauty surrounding us.
Use little arrows on top of photograph or click on the images on the right to journey to Provincetown's favorite places... and if you have your special place, let us know and we'll add it to our collection.
. . . . . . .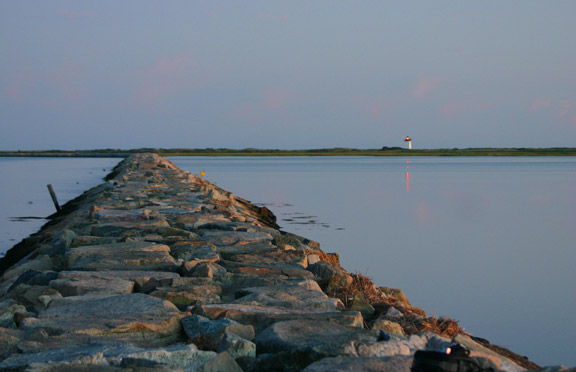 Provincetown West End, breakwater with Wood End Lighthouse on the horizon. More photographs here...
. . . . . . .
More links to Provincetown places:
Sunset over Herring Cove Beach (8/2/2012)
Sunrise over Provincetown Harbor (7/31/2012)
Sunrise at the Boatslip (7/27/2012)