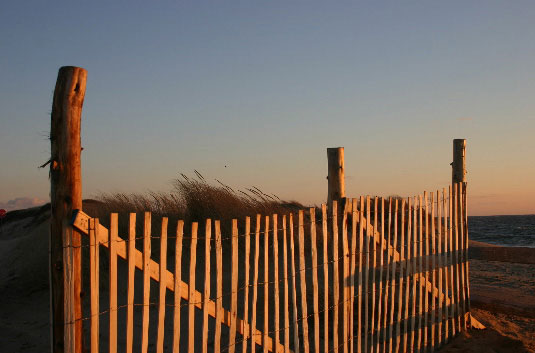 The extraordinary sunset light at Herring Cove Beach. Year-round, the parking lot is full with eager sunset watchers. The magnificent beach is the only place on the east coast where the sun sets into the water. Many have claimed to see the "green ray."
If you are lucky, you might catch one of the many weddings that grace the beach.
For those who like sitting by a warm beach fire, Herring Cove Beach is a favorite spot. Permits are available for beach campfires at the National Seashore parks. Reservations may be made up to 3 days in advance by calling the Province Lands Visitor Center at (508) 487-1256, or in person at the visitor center beginning at 9am. Only three permits are allotted per day, so call early. Permits are free, and must be picked up the day of the fire before 3:30 PM. Demand often exceeds the number of permits available.