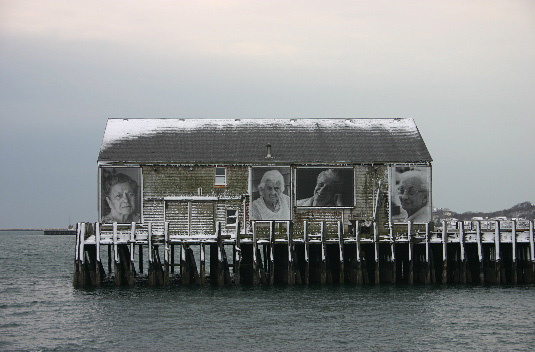 Large black & white portraits of Portuguse women by Provincetown photographer Norma Holt are mounted on the Fishermen's Wharf building. The installation was a concept of Ewa Nogiec, the Polish painter and photographer, who has lived on Cape Cod since 1983. The gap between the photographs shown here is where a fish door exists.
When this pier was actively serving the commercial fishing industry, draggers would tie up along the pier under the fish door and offload their fresh, iced catch. Once inside the building, the fish were prepared for market and shipment to restaurants in Boston and New York. When yellow fin tuna fish were plentiful in local waters, buyers from Japan would purchase these prized fish right off this pier and, packed in dry ice, the fish would be flown from Provincetown Municipal Airport in time to be served as sushi the next evening in Tokyo.
Today the commercial fishermen, severely restricted by federal fisheries quotas, operate exclusively from the town's MacMillan Pier to the east. The fish building on the Fisherman's Wharf, also known as Cabral's Pier, is used for town festivities, including the Portuguese Festival in June and the Great Provincetown Schooner Regatta in September.