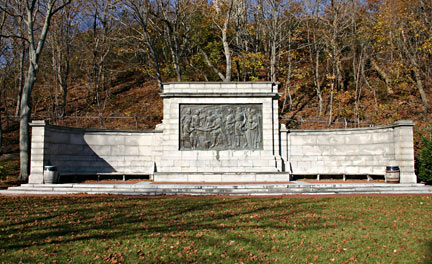 The Bas-Relief is located on the Town Green - a small park on Bradford Street across from Town Hall. It depicts the signing of the Mayflower Compact. The signing of the Compact and the election of John Carver as Governor of the group has been called "the first American Act in history." It was the beginning of democratic government and the first step toward the Declaration of Independence signed 156 years later.
The tablet on the left commemorates the deaths of five Pilgrims who died between the departure from England and the final settlement in Plymouth. Four died while the Mayflower was here - Edward Thomson, Jasper Moore, Dorothy Bradford, and James Chilton.
The tablet on the right gives the text of the Compact and lists the 41 signers. The bronze bas-relief was done by Cyrus Dalin, the sculptor whose seated Indian warrior guards the entrance to the Boston Museum of Fine Arts.
The tower on the hill behind the bas-relief is the Pilgrim Monument. It was built to commemorate Provincetown as the first landing place on the Pilgrims. You can walk to the top and enjoy a panoramic view of the town and harbor.