Built in 1885, Town Hall is the seat of Provincetown's government. Paintings from the town's large collection of work by local artists hang in its corridors, offices and meeting rooms. In 1915 the Art Association presented its first exhibition here and, until 1921, scheduled two major Town Hall shows each year. For decades the Artists' Costume Ball also was held here.
In the main corridor hang two paintings by Charles Hawthorne. By establishing his Cape Cod School of Art in 1899 Hawthorne brought into being the Provincetown art colony. Although Hawthorne's teaching methods involved painting in brilliant sunlight and his weekly demonstration classes were most often held outdoors, his masterpiece "The Crew of the Philomena Manta" was painted in his studio at Days Lumberyard where students, fellow artists and townspeople posed for him. This painting and "Fish Cleaners" on the opposite wall reflect Hawthorne's abiding interest in the life of the local Portuguese fishermen.
Ross Moffett studied with Hawthorne and was one of the first year-round painters in Provincetown, moving into Days Lumberyard in 1914. "Gathering Beach Plums" and "Spreading Nets," his large murals in the Town Hall entrance were painted in 1934 under the federal Public Works of Art Project of the Depression era. An easel painter and monotype artist, Moffett undertook only one other mural commission in his career. In 1954 he painted murals for the Eisenhower Memorial Museum in Abilene, Kansas, under the sponsorship of the National Academy of Art. Moffett's paintings "Ploughing" and "Shankpainter Pond" hang in other areas of Town Hall.
Another Hawthorne student and head of the Cape School of Art, Henry Hensche is represented by a painting in the main corridor, "His Breakfast." Also in that corridor is "The Peaked Hills of Cape Cod" by William Halsall, who served with Hawthorne as one of the Art Association's first officers.
More than thirty other paintings from the Provincetown art collection can be seen in Town Hall offices and hallways. Demonstrating a variety of styles, most of the work was produced in the first half of the 20th century and many of the pieces depict Provincetown scenes. A free brochure is available to visitors in Town Hall, outlining the history of art in Provincetown and identifying the paintings on display.
from PROVINCETOWN: THE ART COLONY A Brief History and Guide by Nyla Ahrens, published by Provincetown Art Association and Museum, 1997. Revised edition published 2000. Available in print at Provincetown Art Association and Museum Store.

© Nyla Ahrens


Pin it!
. . . . . . .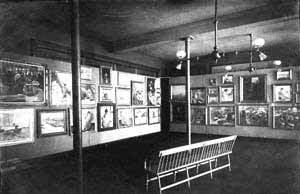 Provincetown Art Association & Museum exhibition in Town Hall, 1916 Photographer: Walter Stiff, PAAM Archives