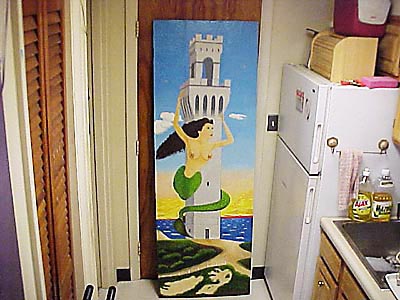 Painting by John Bates
My family on my mother's side are from P-town, they go back four generations there. My mother Lucille (Brown) Alfieri, as a young girl use to model for artist Dorothy Loweb, in her studio.
I now live in Whitman, Ma. I don't know where to begin with chronicleing my experience I have so many, but I will start with my first experience of which is so vivid !
I remember as a very young child of 4 years old sitting in a tidal pool at "Herring Cove Beach" looking in awe as to the magnificent beauty of the sunset! Growing up, I remember my family and I use to visit my grandparents a lot, and because of this I consider P-town my second home.
I remember coming around the Truro hills and seeing the artist on a bluff to my left painting the all inspiring view of "Pilgrim Springs", the ever changing dunes, "Days Cottages", "Pilgrim Monument" and above all "The Light" with its magical inspiring feeling of "God's Country"!
The beauty there is so overwhelming to sum it all up, it made me feel as if I had died and gone to heaven!
I remember as a very young child sitting on my grandfather's lap while he told me many a yarn about the sea, himself in the Navy during WW1 and he as a Trap Fisherman. It had quite a lot of influence on me because I became a fisherman as well in P-town when I grew up. He use to tell me not to become a fisherman for it is too hard a life, but it was too late I was hooked to the romance of it all from his story telling.
I ended up fishing for a while on the "Liberty" & "Richard & Arnold."
My grandfather was right it is too hard a life, but I don't regret trying it, if, just for the romance of it!
To put all of my experience together I would have to credit Provincetown for it's all inspiring beauty with making me the self taught artist that I'm today!
I dedicate this oil painting on a funky rustic 25" x 74" door to Provincetown and my mother ! It depicts the "Provincetown Monument" and my mother as a mermaid with wind swept hair, starfish on breast, scruboak brush, beachplum blossoms, sunset, and she looking in awe of the magnificent beauty of the town!
My Ever Loving Romance,
John Bates