Help us identify the fourth person from the right:

Who is he?
If you have any information, please contact
Ewa: ewa@iamprovincetown.com
"Provincetown Fishermen with Tuna" from left to right: Robert Keller, Robert Silva, "Big" John Marshal, Jesse Cable, unknown person, Manuel Martin, George King Sr., Richard Sousa. Photographer unknown. Provincetown waterfront, circa late 40's or early 50's. Copy of the original photograph courtesy Joan Cordeiro. Her brother, Richard Sousa, is first on the right.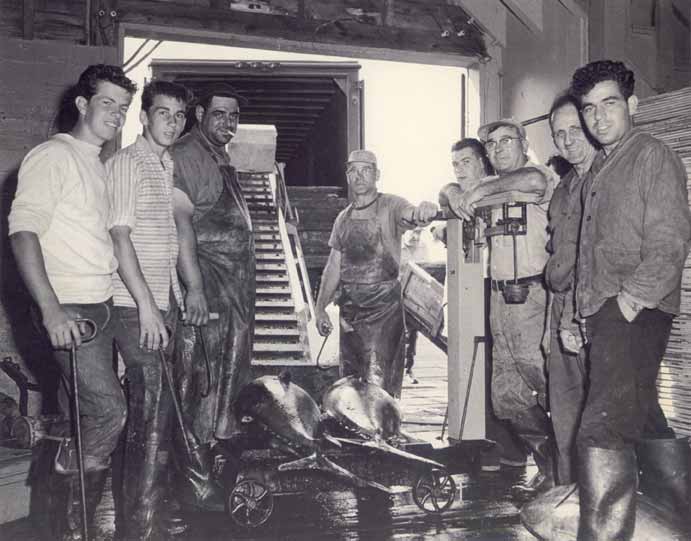 I grew up in P-town and in 1983 graduated of Ptown high; the picture you showed of men weigthing fish showed my grandfather George King Sr. My father worked for Subburban gas next to the Post office way back when and we grew up at 1 Holway Ave. I am still fastinated by the town and its history and want to learn more about the house I lived in because strange things happened there. Love your web page as well. Also my dad was the brother of the Captin Billy King of the Patricia Marie that went down in the 70's. -- Dee Sawyer
The picture Provicetown fishermen: Who is the fourth man from the right? I believe it might be Johnny Strong. This picture is from circa 1959 or 1960. These men worked for Monument Fish Co. George King was my maternal grandfather. Robert Silva around 1964 married Carol Salvador and live down the street from me on Conwell Street. -- Charles Roderick
Regarding picture, Provincetown Fishermen with Tuna, My father is the one you have named Manuel Martin. However his real name is Manuel V. Motta, Jr. He came to America when he was 3 years old with his mother and sister from the Azores. Due to paper work error his name was listed incorrectly and not corrected until the 1920's when he married my mother the former Mary Rego. He was Captain of the trap boat Eleanor for many years before retiring. He passed away in 1974. -- Carmen Motta North