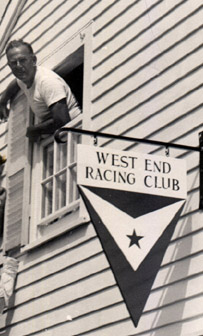 Let me tell you about my romance with Provincetown. It began in 1940. I was 10 years out of college and came to the lower Cape for a few days vacation. Looking back now I am sure it was love at first sight . . .
The rest of our Provincetown story is simple. We've summered here ever since. We have a lovely old Cape Cod house way up along where we have brought up a daughter--where we've entertained friends over the years.
Remember, many of you are here by virtue of having been born here or having been brought here. We're here through our own choice.
Lately I've been fortunate enough to realize a hope and a dream. To retire and spend most of my time in Provincetown.
My romance started with the harbor. I learned to sail here . . . Wonderful people befriended me. Personal association with projects I have thought to be useful include the West End Racing Club (and the terrific guys who share my vision for kids) and now the Provincetown Art Association. For Provincetown to allow me to have made some imprint on its life assures me that the romance of which I speak is mutual.
I've spent a lifetime in business in New York . . . If I'd had my choice in 1940 I would have traded everything to make Provincetown my home base then . . .
I love you Provincetown!
-- Larry Richmond
(Excerpts from a letter to the editor of the Provincetown Advocate, March 11, 1976)