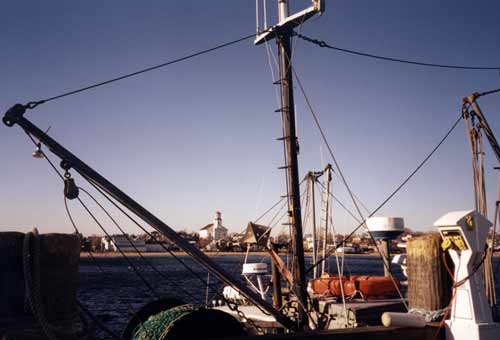 Of the 50 or more wharves that existed in Provincetown at the height of its Grand Banking and whaling years, one one worthy of the name remains - the MacMillan Pier. The original wooden planked wharf was built in 1873 and extended 1,400 feet into the harbor. It was called Old Colony Railroad wharf because the railroad maintained the East side.
The fishing fleet once numbered in hundreds. Now there are approximately 20 boats, most of them draggers that go out daily, weather permitting, and return the same day.
The wharf was renamed MacMillan Wharf in honor of Admiral Donald B. MacMillan, famous son of Provincetown, who accompanied Peary on his North Pole expeditions and who, himself, made may voyages to the Arctic.
[from Walking Tour No. 1, The Center of Provincetown, originally published by the Provincetown Historical Association with beautiful drawings by Barbara Malicoat, reprinted by the Pilgrim Monument and Provincetown Museum, in collaboration with the Provincetown Chamber of Commerce and Seamen's Bank.]