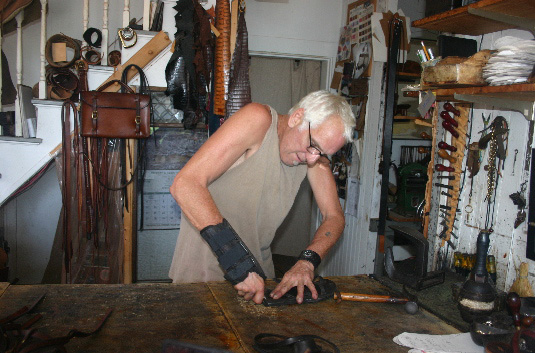 Victor Powell's Workshop
Custom sandals, classic briefcases, bags, belts, agendas, organizers, portfolios...
Victor Powell has been in the leather business since 1967. As a self taught sandal maker, Powell spent the early years of his career in Florida and Boston, finally setting in Provincetown in 1975. Working in various venues, he opened up a high end retail leather store called SKIN from 1982 to 1998. Today, Powell concentrates solely on being a craftsman.
Using Old World techniques and fastidious craftsmanship, Powell has created a full line of luxury handmade leather sandals, bags and accessories. All bags are hand stitched from fine English harness leathers, exotic hides, and soft domestics. His designs are original, contemporary, finely detailed, and works of art. All are signed. Best known for his custom cobbled sandals, Powell's broad talents include sculpture, furniture making, and custom installations for the home.
In recent years, Powell has made custom sandals for Cardinal Shawn O'Malley of Boston known for his devotion to traditional biblical footwear. 2005 brought a commission from Provincetown art collectors to cover a three floor spiral staircase in leather which was featured in Provincetown Arts magazine.
Later in the year, internationally known fashion designer Michael Kors commissioned Powell to construct all the sandals for his Spring 2006 Menswear Collection shown during Fashion Week in New York City.
Also in 2006, Powell was featured on FOX TV's News in the Morning, and CNBC's travel show Let's Shop. And coming up Fall 2007, Powell will have his first show of laminated leather sculptures at The Fireplace Project in East Hampton, New York.
Today Victor Powell can be found downtown in his beach side studio, called The Workshop, working year round on his designs and ever changing accessories line.
323 Commercial Street, Provincetown
tel/fax 508-487-9075
Open everyday 10-5, except Tuesday, or by appointment.
Located downtown above the Old Colony Tap and beside the Lobster Pot Restaurant.
www.victorpowellsworkshop.com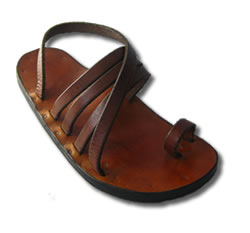 Victor's custom sandal